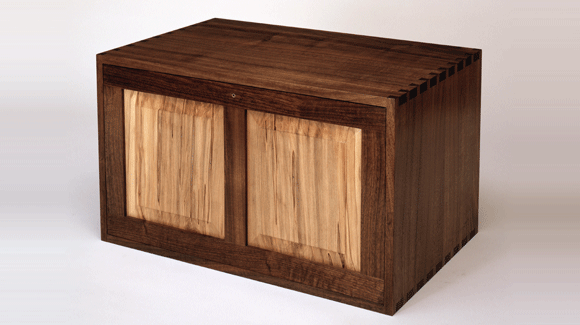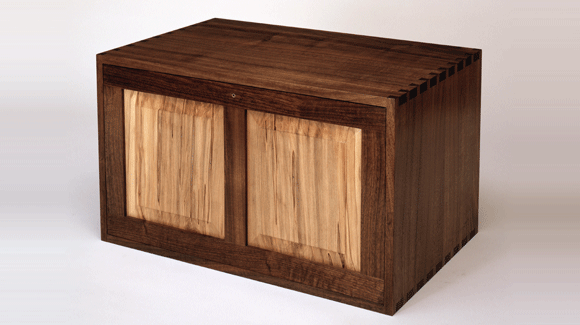 Chest of Drawers
September 2007
Hand cut dovetails and a rift sawn walnut case highlights the outside of this cabinet, while five dovetailed drawers with hand turned knobs showcase the inside. A locking door with raised panels of ambrosia maple secures the interior contents. All solid wood construction including ship lapped back panel and drawer bottoms with traditional cabinet making techniques. The piece is finished with hand padded shellac over a boiled linseed oil stain.
Material: Walnut, Ambrosia Maple, Poplar
Finish: Linseed Oil, Shellac
Size (as shown): 27" x 16" x 17"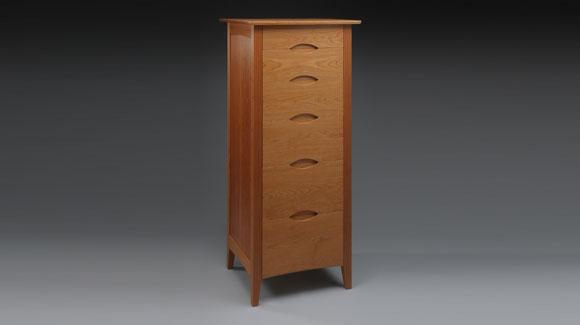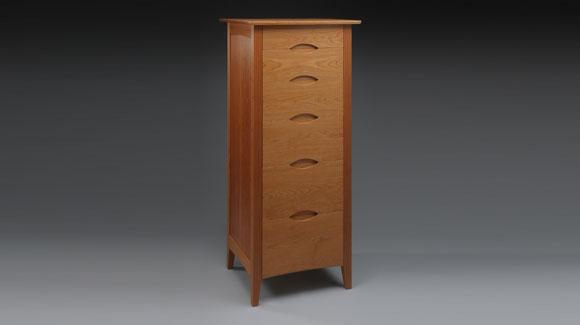 The Mann Cabinet
June 2010
A contemporary take on a classic shaker design, this custom file and storage cabinet and its complimentary writing desk feature gentle arcs, simple tapers, and carved drawer pulls. The entire project was made from a complete set of flitch sawn cherry boards allowing for a seamless book matched top, continuous grain, and uniform color throughout the piece. Overlaid drawer fronts with sliding dovetail construction give a contemporary twist to this simple design.
Material: Cherry, Quarter sawn Ash, Poplar, White Oak
Finish: Danish Oil, Poly/Lacquer
Size (as shown): 24" x 22" x 60"
Keepsake Box
November 2005
An exploration of form and joinery, this small keepsake box features splined miter construction with a coved surface. Lined interior compartments fill the inside of the box with individual lids cut from a continuous maple board. Delicate moldings help to visually anchor the case to both the ground and the lid, while the handles playfully invite one to see what treasures are hidden inside.
Material: Cherry, Birds Eye Maple
Finish: Danish Oil, Wax
Size (as shown): 27" x 14" x 8"
Sushi Box
May 2005
This piece with a unique spalted maple cover, houses all the dinner ware needed for a sushi dinner for two. Dovetail keys strengthen the mitered case and lid frame construction, while the interior lined surface provides space for all the needed utensils.
Material: Walnut, Spalted Maple, Maple
Finish: Danish Oil, Wax
Size (as shown): 27"x 14" x 8"
Step Stool
June 2008
A traditional Shaker styled step stool of curly cherry. The dovetailed construction and lumber ensure that this piece is strong enough to last many generations truly becoming a future family heirloom.
Material: Curly Cherry, Cherry
Finish: Boiled Linseed Oil, Lacquer
Size (as shown): 27" x 14" x 8"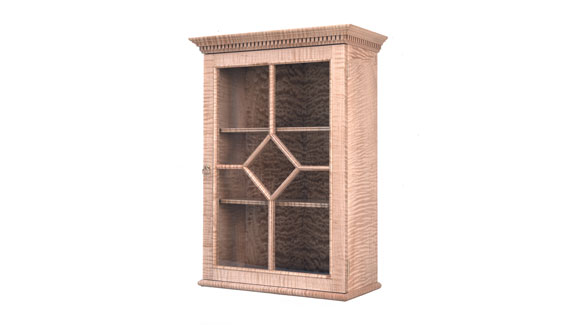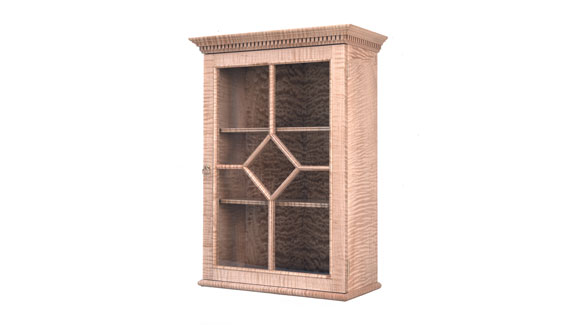 Display Cabinet
February 2008
Exquisite examples of curly and quilted maples dominate this piece, with a barred glass door and a crown of dentil molding. The traditional construction of the case and door features blind dovetails, mortise and tenon joinery, and individual glass window panes. Adjustable height shelves on the inside provide a stage to showcase collectibles and keepsakes.
Material: Curly Maple, Quilted Maple, Glass
Finish: Boiled Linseed Oil, Lacquer
Size (as shown): 27" x 14" x 8"