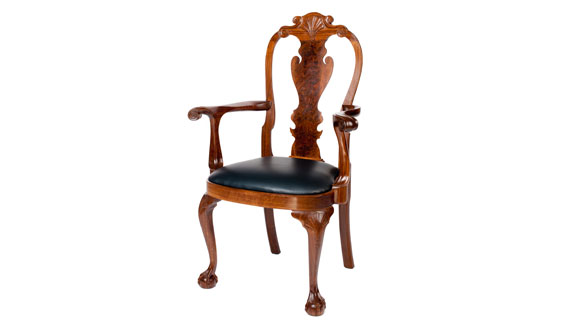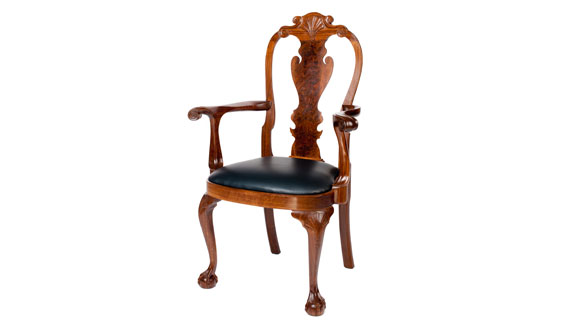 Queen Anne Armchair
September 2009
This Philadelphia Styled arm chair is an adaptation of an existing chair c.1750. The original, part of the Mabel Brady Garvan Collection at Yale University, was featured in Patricia Kane's, 300 Years of American Seating Furniture, plate 62. This inspired version uses the same the same choice of woods and ornamental details, but with the addition of arms and the adjustments of overall dimension for today's larger standards.
Material (as shown): Walnut, Crotch Walnut, Ash, Leather
Finish: Shellac, Boiled Linseed Oil
Size: 29" x 20" x 44"
Queen Anne Styled Side Chair
October 2008
The design of this chair is from the workshop program at North Bennet Street School. It is mixture of different regional styles and joinery techniques from the Queen Anne period. Simple Cabriole legs, crest rail, and splat hint at a New England influence, while the joinery is consistent with designs from the Philadelphia region. The seat is a traditional slip seat frame with leather, muslin, cotton, and horse hair for the upholstery.
Material (as shown): South American Mahogany, Sipo Mahogany, Poplar
Finish: Aniline Dye, Lacquer
Size: 21" x 17" x 39"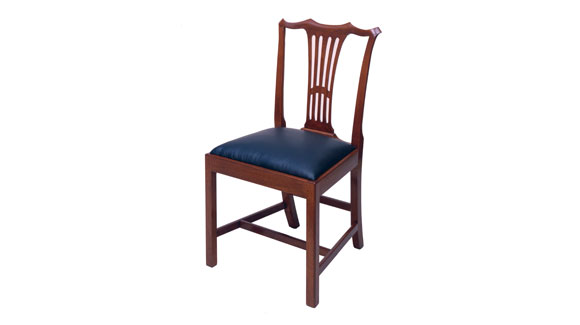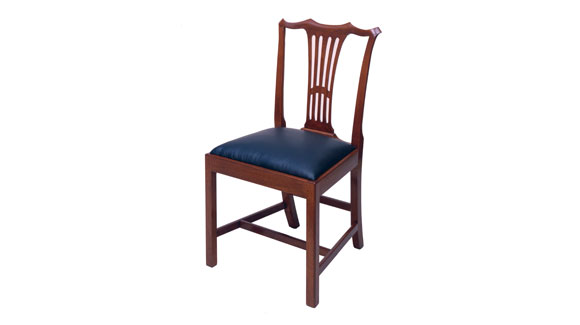 Chippendale Chair
April 2008
Best in Show - Providence Fine Furnishings Show 2008
An original design, this chair is built with traditional craftsmanship from the 18th century but could fit well in today's contemporary dining rooms. The pierced splat and carving detail were inspired by several chairs of southern origin shown in the collections at Colonial Williamsburg. Traditional pinned mortise and tenon joinery ensures that the structure of this chair will last for generations to come, complimenting the timelessness of the design.
Material (as shown): South American Mahogany, Ash, Leather
Finish: Aniline Dye, Shellac
Size: 21" x 18" x 37"