Pembroke Table
October 2008
This oval drop leaf table is rich in detail from the federal period, featuring book bind inlay, stringing, handmade banding, sand-shaded bellflowers. With all parts re-sawn from a single plank of mahogany, there is uniformity of color and grain throughout. A Dovetailed drawer, richly veneered with crotch birch and framed by rosewood banding, adorn each end of the table. Holly stringing leads to a fine rosewood cuff at the base of each simply tapered leg.
Material: South American Mahogany, Crotch Birch, Poplar, Holly, Rosewood, Curly Maple
Finish: Shellac, Boiled Linseed Oil, Wax
Size (as shown): 36" x 42" x 28"
Round Dining Table
August 2009
This round dining table is simple in design, but features a wildly vivid curly cherry top. Elegant tapers for the legs and sequenced aprons of plain rift sawn cherry provide a nice foundation for the distinctive top. All traditional solid wood construction with bent laminated aprons gives this table the shape to seat four comfortably.
Material: Curly Cherry, Cherry, Poplar
Finish: Danish Oil, Poly/Lacquer
Size (as shown): 48" diameter x 30" tall
The Mann Desk
June 2010
A contemporary take on a classic shaker design, this custom writing desk and its complimentary file cabinet feature gentle arcs, simple tapers, and carved drawer pulls. The entire project was made from a complete set of flitch sawn cherry boards allowing for a seamless two board book matched top, continuous grain, and uniform color throughout the piece. Overlaid drawer fronts with sliding dovetail construction give a contemporary twist to this simple design.
Material: Cherry, Quarter sawn Ash, Poplar, White Oak
Finish: Danish Oil, Poly/Lacquer
Size (as shown): 60" x 20" x 30"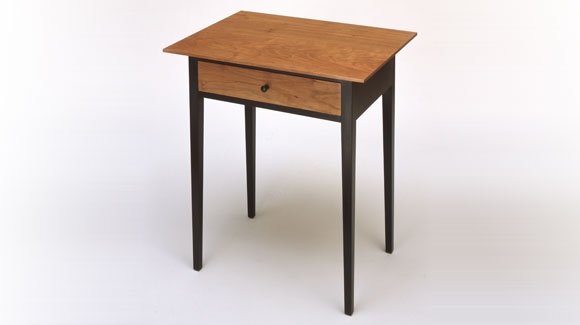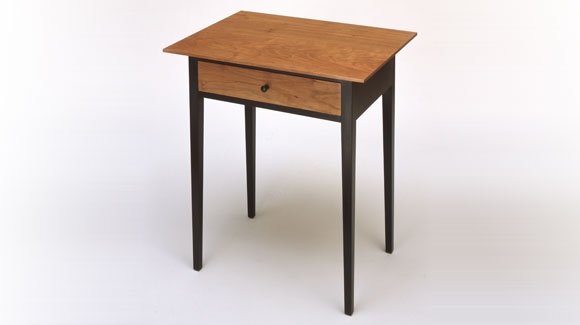 Shaker Side Table
April 2007
This small shaker inspired side table has a delicate leg taper to compliment the feel of the beveled edge top. A small turned knob invites fingers to pull the dovetailed drawer open. Traditional construction, with a milk paint finish, gives a contemporary feel to this classic design.
Materials (as Shown): Cherry, Maple, Poplar.
Finish (as shown): Shellac, Milk Paint (black), Linseed oil, Wax
Size (as shown): 24" x 24" x 28" Tall
Duncan Phyfe Styled Tilt-Top Table
October 2008
Inspired by a pair of tables in the Winterthur Collection, this design can be used an occasional table or tilted up for storage in a corner. It features hand fit rolling brass casters and waterleaf carving on the legs. The twelve sided top is edge profiled with a triple bead and fillet. The entire piece is finished with hand padded shellac and wax.
Material (as shown): South American Mahogany
Finish: Super Blond Shellac, Aniline Dye
Size: 24in x 24in x 28in (Tilted Down)
Sofa Table
October 2008
This Asian inspired contemporary sofatable table works equally well in an entry way as it does behind a couch. The sweeping curves on the apron mimic the profile of the rosewood top while simultaneously complimenting the gentle curves of the tapered legs. The beveled edge of the top leads to the exposed wedge tenon joinery and ultimately to the legs. To achieve a lighter feel, the rosewood top is elevated above the maple base.
Material (as shown): Bolivian Rosewood (Morado), Hard Maple
Finish: Danish Oil, Wax
Size: 48in x 14in x 32in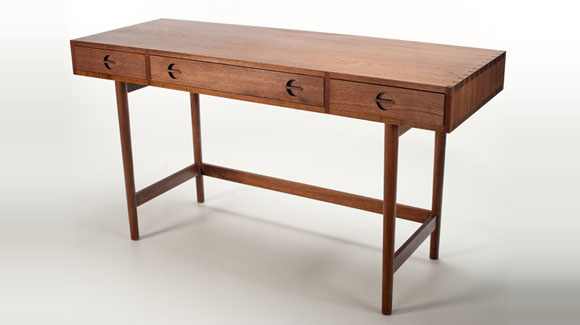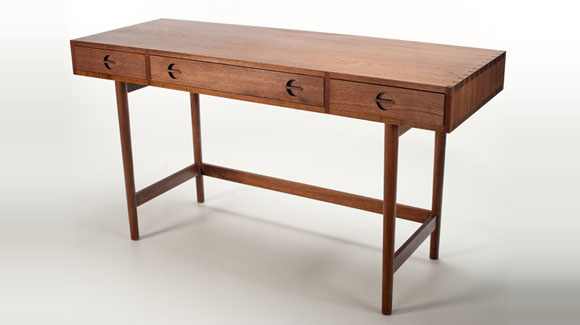 The Flint Desk
December 2009
A commissioned piece, this design looks to blend traditional craftsmanship with mid century modern style. All solid wood construction, hand cut dovetails, and a single piece top are the focal point of the desk, which is supported by a frame of delicately tapered round legs. Drawing inspiration from both the large desks designed in the 1960's by Jen Quistgaard, and from earlier works of Nakashima stressing his shaker roots, this piece has a set of pencil drawers and a pull out keyboard tray all with textured drawer pulls. The overall size is meant to compliment the unique space it occupies.
Materials: Walnut, Poplar
Finish: Waterlox, Wax
Size (as shown): 56" x 20" x 30"
Porringer Table
August 2008
This small occasional table with its quirky top would once have been a common piece of furniture in the taverns of the colonial era. Turned cabriole legs and top with turrets are the focal points of this simple piece. A painted base gives visual separation to the richly ribbon striped grain of the mahogany top.
Materials: Sipo Mahogany, Poplar
Finish: dye, Shellac, Poly/Lacquer, Milk Paint
Size (as shown): 32" x 24" x 27"